Ask Gramps.org
Infidelity
I am so sad. I am married to a wonderful husband and have four beautiful children. Yet I made a very foolish decision. I fooled around sexually with another man. I am so sad and afraid. What will happen to me? What do I need to do to fix this?
Just Me
Just me,
You have a long road ahead of you.
The first step is to not compound the situation any further. You must cut off all contact with this man. If you have to change/quit jobs, change phone numbers and email addresses, do it. Block him from your facebook profile.
If you haven't done so, you need to be tested for STDs as soon as possible. The health of you and your husband may be at risk.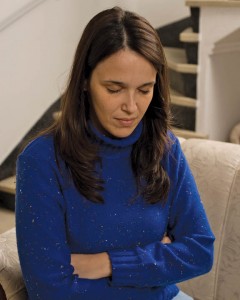 The second step is to realize the violation of your covenants is going to be a violation of trust with your husband. You cannot conceal this and be a wife worthy of trust. You may want to talk with your Bishop before talking with your husband, but you must discuss this with your husband. This would be one of the steps your Bishop would counsel you to do as part of the repentance process.
The third step is patience. He may be mad, upset, withdraw from you, or even leave for a while, so he can collect his thoughts and pray. He needs to deal with this news as he can… and your job is to be sorrowful and let him have and take the space he needs.
Do NOT get defensive. Do NOT bring up any previous errors or sins that he may have committed, or it will show that you are trying to justify your wrongdoing, instead of trying to atone for it.
DO offer to go to counseling with him. DO find ways to strengthen your relationship. You had an emotional reason for violating your covenants. You need to identify why that happened. (Notice that I've never called it "cheating". This was a violation of your covenants.)
Fourth, you may be subject to church council hearing. If so, this is part of the confession and repentance process. These inspired men are there for the salvation of your soul and aren't to condemn you. Excommunication can be a possibility, but that decision is left to the council. They will feel uncomfortable as well as you will.
Fifth (and this is just my own idea), you may want to volunteer for service at a battered women's shelter. There are women who have been treated very badly by their spouses or others. These women are there to escape their influence. You can help them and you can gain additional perspective on your life at home with your husband and children. You'll come home with a new appreciation for your husband. Just don't necessarily expect him to reciprocate your newfound appreciation.
I hope this helps. Good luck on your journey.
If you liked this, please subscribe, with a friend, or ask a friend to subscribe.
Emails from Around the World