When Peter,James and John appeared to Joseph Smith, Peter and James had been resurrected but John was told by the Savior he would not taste death. So how could he appear with Peter and James when they appeared to Joseph?
Sandi
_____________
Sandi,
How did John appear to Joseph Smith with Peter and James if he did not taste death? Excellent question.
In the Book of Mormon we have the example given to us of three Nephites who were given the same opportunity as John to not taste of death. The scriptures explain that these three Nephites even visited Mormon, nearly 400 years after the time Christ bestowed this gift upon them.
The pictures which depict this episode may not be correct either. They show John in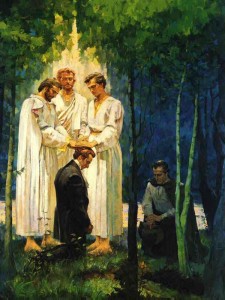 a similar resurrected form as Peter and James. Pictures are a personal interpretation of the the experience, and it is likely that John did not appear to Joseph in the same way Peter and James did.
John may have taken a boat, taken a wagon, and walked up to Jospeh Smith and introduced himself. John also could have easily been received by God, and then in the same instance visited Joseph with Peter and James.
The heart of the matter, John did not taste death and John did meet with Joseph with Peter and James. John probably did not have the same glory, or body, as depicted in the pictures we are shown.
Sincerely,
Gramps