Ask Gramps.org
Pre-Mortal Assignments
As a (pre-existant) or pre-mortal spirit, could we have ever been assigned to this earth twice as a spirit prior to being assigned to the earth in mortality?
Roger
___________
Roger,
The pre-mortal life is a great mystery to us here on earth. There is some information about it, but not a lot. Any clear answer would be based upon assumption and guessing. I prefer to be certain in my answers, but I just can't offer one on this interesting question.
From biblical accounts it is clear angels have been sent to minister unto men in the flesh many times. The only obvious time a pre-existing spirit would have been sent to earth would have been the angel that appeared to Adam as he was offering sacrifices to God by way of commandment. I also know there are recorded times both in Bible and Book of Mormon when Jehovah revealed himself to his prophets prior to his birth.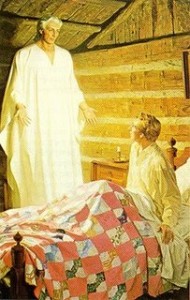 On the other hand, in all the ministrations Joseph Smith received, each one that was named was a significant person involved in previous dispensations of the Gospel.
So in short, it is possible, but we just don't have any solid grounds in scripture to say for sure. Part of why there isn't much known about our pre-existent life is due to the need for us to focus on the here and now of why we're on the earth. Once we cross the veil through death, we will recall our pre-mortal life, and all the answers will be there. Good thing too, because I have a feeling there will be a lot of remembering going on.
Gramps
If you liked this, please subscribe, with a friend, or ask a friend to subscribe.
Emails from Around the World