Ask Gramps.org
Satan's Rebellion
I read your response to a question(forgot which one). Your response suggested that Satan "volunteered" to assist in the redemption of humans. Although not specifically noted, Satan(at the time of volunteer) would have been Lucifer, still in heaven with God.  But if this is the case, the story goes "Satan rebelled and now threatened the salvation of God's children"….. how can you explain the redemption of man being necessary if Satan hadn't rebelled at this point?
Von
___________
Von,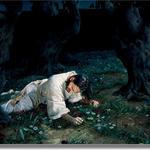 The need for redemption stems from the gift of agency God gave us in the pre-existence. Even then we knew it would come into play in our lives as an obstacle to returning to Heaven. Satan's rebellion had no role in needing to be redeemed. The need stems from the fact that through our agency, we would sin and thus make ourselves forever unable to return to God's presence. Only through the Atonement of Christ are we able to overcome our sins.
-Gramps
If you liked this, please subscribe, with a friend, or ask a friend to subscribe.
Emails from Around the World